Media Guests
Kazha will be performing Friday at 7:30pm and Saturday at 8:30pm!
Read More...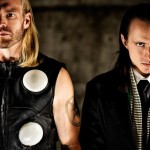 ThorTV and Loki Hates You are a duo of California based cosplayers who are making their way across the country to meet new fans and spread their love of cosplay and the nerd community at large. Having met by chance in 2013, these two became fast friends, have been frequenting the southern California convention circuit […]
Read More...
Hometown wrestling hero Jerry Lawler may best be known for his work in the ring, however, at the MCFC, we will be celebrating his work at the drawing table. From comic book drawings, to formal paintings in oil and watercolors, the range of this incredibly gifted artist is truly remarkable. At the MCFC Jerry will […]
Read More...